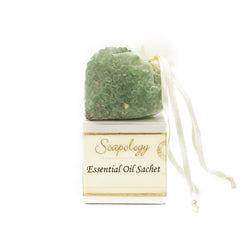 SoapologyNYC
Essential Oil Sachet - Rose
Use the natural aroma of essential oils to freshen any atmosphere whether it be your home, office or closet. A more portable alternative to candles, our essential sachets fill your world with a wonderful, long-lasting aroma that is pleasing to the senses. 
Our sachets are made with the natural aroma of Gardenia, Honeysuckle, Lavender, Narcissus or Rose. 
Customer Reviews
12/06/2021
tar13f@gmail.com RYAN
Sachets to live by!
Nothing is nicer than putting on clothes especially PJ's & smelling Soapology's clean, fresh not too strong scents. Love them!
10/03/2021
Melissa F.

United States
Love this scent!
The scent is calming.
12/03/2020
tar13f@gmail.com RYAN

United States
I'm 66 & teenagers are jealous of my skin. At 66 yes. on wrinkles!
From walnut polisher to buttercream you can't look healthier. I look fabulous!