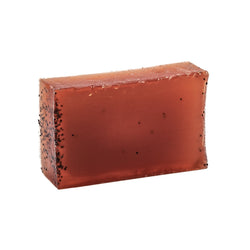 SoapologyNYC
Soap Bar - Strawberry
Our Fresh Cut Soaps are rich in moisture promised to hydrate & repair skin, leaving it soft, glowing & delicately scented for every day use.
Our strawberry scented bar is so deliciously fruity you'll be wishing you could take a bite from it! Succulent strawberry is supercharged with antioxidants, leaving your skin feeling & smelling fresh & clean.
Customer Reviews
Strawberry soap
LOVE IT!!! My favorite soap is Dark Amber (clear Smokey brown bar), as well as — Tobacco Caramel, Waterlily Jasmine, Lemon Verbena (pink clear bar with white chips), Fig, Apple Pie, Strawberry, Orange, and Rose. I also like Lavendar, Eucalyptus, Lilies of the Valley, Dark Coconut scrub bar, Almond, and Peppermint. Oh! And don't forget Yuzu, which I also love!