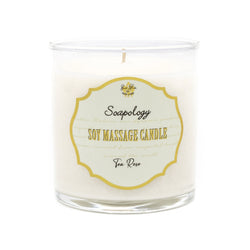 SoapologyNYC
Soy Massage Candle - Tea Rose
All of our Pure Soy Massage Candles are hand-poured in NYC & made with the finest aromas creating a magical atmosphere with scents that enliven the spirit. 
When burned at a low temperature our soy wax creates a warm, relaxing moisturizer that can be used as a massage oil while also providing aroma therapy.
Soy made candles are lead-free & emit less toxins into your environment. 
Customer Reviews
The smell of these candles is unique
I buy Soy Massage Candles from Soapology on a regular basis. They smell so good and they are unique because the smell is subtle and not overpowering. They last a long time and help me to sooth myself on a stressful day.