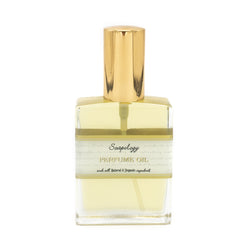 SoapologyNYC
Natural Perfume Oil - Custom Scented
Our luxurious scented body oils naturally enrich & moisturize all skin types while also pleasing the senses & can be used as either a lotion or massage oil. 
Available in one of our many custom scents, our body oils are created with natural ingredients such as: Sweet Almond Oil, Apricot Kernel Oil, Sun Flower Oil & Vitamin E promised to leave your skin smooth and silky. 
Customer Reviews
Rose Perfume Oil
I love using the Rose Perfume Oil on my legs in the winter. It keeps my skin from drying out and smells great. I get lots of compliments.
09/26/2020
Yoki

United States
My favorite Lavender oil
I love the lavender scent (regular lavender, not the one w. Vanilla). It's lasted for months. I use it for both my body and mixed in an oil warmer. I also suffer from migraines and wear it to soothe myself when I'm being tortured.