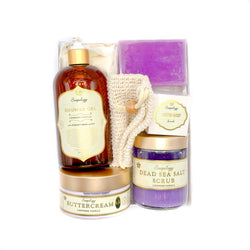 Soapology NYC
Self Care Lavender Vanilla Set Gift Set
Self Care Lavender Vanilla Set Gift Set
This is a perfect set to get a spa experience at home.
You have everything you need to make your skin feeling clean and fresh .
There is 6 products in a set
1 shower gel
1 buttercream
1 small dead sea scrub
1 bar of soap
1 ramie washcloth
1 sachet
This set fragrance is a variety of lavender and lavender vanilla products perfect for relaxation and very calming.