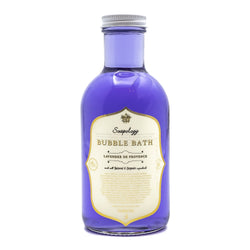 SoapologyNYC
Bubble Bath - Lavender
Our aromatic Foaming Bubble Bath leaves you feeling infinitely clean & refreshed.
Handcrafted with the finest natural ingredients to moisturize & soothe all skin types, add desired amount to a warm bath & soak in a bed of delicate bubbles that leaves you feeling revived & soft from head to toe. 
Customer Reviews
Buy Bubble Bath
I love it! I had at least 2-3 great bubble baths. The bottle accidentally fell into the tub last night and shattered so I am quite sad that I didn't get to finish it. I guess I will have to get a new one!