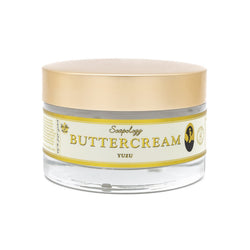 SoapologyNYC
Buttercream - Yuzu
Our Signature Body Buttercream is available in one of our many rich & delicious scents, promised to leave skin feeling softer & ultra-hydrated.
Made with only the finest natural ingredients such as Pumpkin Seed Oil, Shea Butter & Passionflower creating a silky smooth butter perfect to moisturize even the driest of skin. 
 
Customer Reviews
12/06/2021
tar13f@gmail.com RYAN
The best facial cream ever. Just put it on & only a few seconds later you can put on make-up. No delays in the morning. Perfect for the working girl. People always guess that I'm 12years younger. I'm happy!
Fantastic couldn't live without it.
01/03/2021
tar13f@gmail.com RYAN

United States
Get those years back!
Buttercream after the walnut polisher gives you back so many years. These products are supernatural!