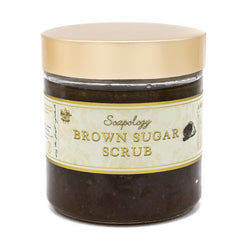 SoapologyNYC
Brown Sugar Scrub
Our Brown Sugar Scrub is an all-natural exfoliant for an unrivaled treatment that leaves skin feeling supremely soft even after its first use! We use only organic brown sugar crystals & a blend of natural oils that nourish the skin & deeply moisturize dry areas, resulting in a revitalizing experience!
Benefits of Use: 
Our Brown Sugar Scrub is full of glycolic, alpha-hydroxy acid, crucial for maintaining healthy, moisturized skin, while also protecting it from toxins. Cleansed of dead skin cells, the largest organ can circulate more efficiently, breathing in beneficial nourishment, leaving pores tighter & skin feeling soft to the touch. 
Brown sugar is known for its ability to effectively cleanse & prevent acne breakouts & aids with dandruff control. People with highly sensitive & dandruff prone scalps find that a scrub prior to washing makes for healthier, happier hair. 
An added bonus is our Brown Sugar Scrub smells wonderful! With a deep & rich aroma you can completely relax & pamper yourself without stepping into a spa!
How to Apply:
Our Brown Sugar Scrub can be used to create a nourishing spa setting right from your bath or shower! Simply scoop desired amount into your fingers & beginning at your feet, scrub slowly & work your way to your neck & scalp. Use circular motions going clockwise & counter clockwise to achieve complete exfoliation.
Once you are covered in the scrub, lie back & enjoy the light tingly sensation & therapeutic aroma. Rinse off gently with warm water. 
When this ritual is performed regularly, your entire body will be left feeling & looking healthier & exfoliated, both in appearance & function.