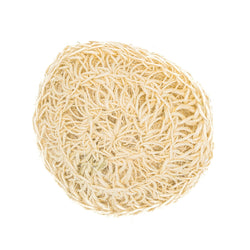 SoapologyNYC
Sisal Bath Scrubber
This Natural Sisal bath sponge is great to exfoliate the whole body, but most of all to remove ingrown hairs and fight cellulite.
The natural exfoliating power of Sisal, a plant of the Agave family "Agave Sisaliana", will improve blood flow, improving the removal of toxins from your skin and energizing your body from head to feet.
Sisal products are 100% natural, highly sustainable and Eco-friendly.