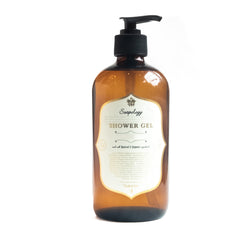 SoapologyNYC
Shower Gel - Custom Scent
Treat yourself to a deliciously scented shower or bath with one of our custom scented gels made to invigorate & soothe all skin types.
Each of our warm & inviting scents are infused with all natural ingredients, while providing a rich lather & leaving your skin feeling soft to the touch.
Customer Reviews
Shower gel
Soapology makes my favorite custom scented products like shower gels. I love their water lilies and jasmine one, my bathroom smells like a garden every morning! What a beautiful way to start the day :)
11/29/2021
Colleen K.

United States
Best Soap Ever- Can Be Used Everwhere
I have very dry skin- especially in the winter. I also had little bumps on the back of my arms since...birth? My skin is very sensitive and normally porcelain- like. This is the only product that cleans my skin well, does not dry it out or cause a negative reaction and completely got rid of the little bumps. This soap is so pure, it also makes a fantastic shampoo and face wash. Soapology is absolutely the best, and I have tried all of "the best"- from Cle De Peau to Creed to Diptyque, etc. and Soapology is my favorite by far. All of their products are incredible and you won't go back to using anything else. Definitely get the Walnut Polisher, too, you are guaranteed fantastic results. I use it on my hands as well as my face and they are getting that smooth, pristine, childlike look back. The staff are very kind, knowledgeable and great at recommending what products are best for your needs. They mix scents into the products expertly. If you are able, definitely visit their shop on 8th Ave, NYC and get treated to a complimentary hand treatment. This shower gel ("everything gel") is a great first product to discover how fantastic Soapology is. Enjoy and be well!