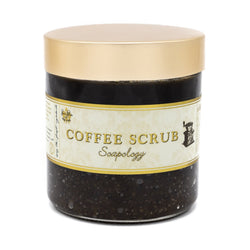 SoapologyNYC
Coffee Scrub
Wake up & smell the coffee even before your first cup of the day! Invigorate your senses in a bath or shower with our unique 
mix of Dead Sea minerals, natural brown sugar & coffee, proven to effectively remove dead skin cells & improve blood circulation. Did you know that caffeine and EGCG (epigallocatechin gallate) in coffee helps neutralize free radical damage?
Benefits of Use:
When applied to the skin, the caffeine absorbed into your bloodstream has a positive chemical reaction with blood cells having
 many benefits such as:
Detoxification: the antioxidants found in coffee aid in cleansing your skin of chemical toxins & other impurities, encouraging skin cell growth & preventing free radicals (molecules that are released when processing food, burning sugars or breaking down medicines) that can cause harm to blood vessels.
Reduce inflammation & puffiness: The caffeine in coffee constricts blood vessels just beneath the skin, helping to reduce swelling, inflammation & redness.
Exfoliation: the granular texture of coffee is ideal in clearing away dead skin cells, revealing new skin after routine use.
Improves circulation: coffee absorbed into the skin aids in activating blood vessels by dilating them & causing your heart rate to quicken, allowing blood to circulate faster throughout the body.
Anti-aging: the antioxidants in coffee such as Vitamin C & E, selenium & flavonoids are a catalyst for anti-aging.
Directions for Use:
in shower, bath or spa treatment: Scoop between fingers, apply to wet skin and gently massage in a circular motion. Rinse thoroughly & pat dry.