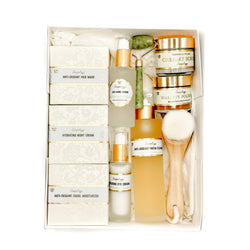 Soapology NYC
Luxury Facial Box Gift Set
Luxury Facial Box Gift Set 9 products
A set with of all our facial line products. 
Step One: Cleansing
Anti-Oxidant Facial Cleanser
Our fresh Anti-Aging facial cleanser is made with all natural ingredients: Aloe Leaf Juice, Vitamin C, Olive Oil, Rose Hip Oil, Green Tea, Blueberry, Orange Peel Extracts & Tea Tree Oil.
Rosehip oil is a natural source of essential fatty acids omega 3, 6, & 9 proven to help repair & regenerate damaged skin tissue. The combination of these elements creates a skin-brightening & anti-oxidant formula that improves ones skin tone, leaving it feeling smoother, lifted, younger & vibrant.
Step 2: Exfoliation ( once or twice a week )
Walnut Polisher
Our signature Walnut Polisher is truly a unique experience that leaves skin feeling silky smooth & smelling wonderful! The hull of the walnut, also known as the husk is ground up & made into a powder that is rich in antioxidants, minerals & beneficial fatty acids known to alleviate the negative affects of skin conditions such as psoriasis, eczema & ordinary blemishes.
Directions for use in shower, bath or spa treatment:
Scoop between fingers & apply to wet skin gently massaging in a circular motion focusing on rough areas. Rinse thoroughly & pat dry.
Key Ingredients:
Walnut Shell Powder, Aloe Juice, Lavender Distillate, Roman Chamomile, Vegetable Glycerin, sativa, Vitamin E, White Willowbark, Jojoba Oil & Rosehip Seed Oil.
Creamy Scrub
Our unique Creamy Body Scrubs are made with mineral-rich salts & Vitamin E that nourish & soothe the skin while also removing dead skin cells.
Indulge in a luxurious & aromatic experience every time you shower.
Step 3:
 Anti Oxidant Face Mask 
( once or twice a week)
Anti-Oxidant Face Mask - leaves skin feeling soft, smooth & glowing!
Made with all natural ingredients such as: Aloe Vera, Hibiscus Petals, Lemon Extracts, Periwinkle & Vitamin C, this anti-oxidant formula defends against free radicals & reverses daily skin damage, reducing the sight of wrinkles while tightening the skin & washing away dead cells.
Anti-Oxidant Face Moisturizer
Our Anti-Oxidant Face Moisturizer is made with all natural ingredients such as: 
Aqua, Aloe Vera, Palm Oil, Vitamin C, Vitamin B-5, Green Tea, Rose Hip Oil & Lemon Extracts. Green Tea is among the most potent natural anti-oxidants known to combat dry skin while maintaining skin's youth & defending it against environmental damage.
This light formula can be used daily, maximizing skin's moisture barrier & leaving your face looking firm & bright!
Anti-Aging Facial Serum
Our daily Anti-Aging Facial Serum promotes youthful radiance & smoother skin with every use. Made with all natural ingredients such as: Aloe Vera, Witch Hazel, Green Tea & Vitamin E, this formula is soft to the touch, rejuvenates damaged skin cells & leaves your face looking toned, smooth & healthy.
This serum is best when paired with our daily facial cleanser & moisturizer.
Hydrating Night Cream
When we go to sleep the skin loses moisture & becomes more vulnerable which is why a night cream is essential in any facial care routine. Our ultra-rich formula is made with all natural ingredients such as: 
Palm Oil, Rose Hip Oil, Coconut Oil, Amino Acids, Chamomile & Primrose Oil, a combination that replenishes the skin's surface moisture & supports its natural nighttime self-repair ability.
This hydrating formula will have you waking up to a radiant face that feels silky & smooth!
Repairing Eye Cream
Our non-greasy & fast absorbing Repairing Eye Cream contains a cutting edge formula of Matrixyl & Tripepetide 5, a small
peptide that mimics the human body's mechanism to produce collagen.
These compounds are
combined with
natural amino acids & vitamins designed to visibly reduce dark circles & puffiness while also aiding in restoring the delicate skin barrier around the eyes, leaving your face looking brighter, smoother & healthier.
This is a complete Anti Oxidant, Rejuvenating and Hydrating Facial treatment Set.